The Department of Music and Dance in collaboration with the Department of Theatre and Film Studies has held a performance to observe the one-week celebration of the late Mr. John Elolo Kwame Gharbin, a lecturer. 
The celebration was held at the Faculty of Arts quadrangle to commemorate the death of the lecturer which occurred on Tuesday 7th September 2020.  The ceremony was accompanied by drum appellations, dance performances, dirge and an elegy to the late lecturer for a peaceful transition and a perfect rest. A moment of silence was also observed to show respect to the late Mr. Gharbin. 
Messages
The Head of Department of Music and Dance, Dr. Eric Debrah Otchere, said, "Tears are not enough to show the emptiness we feel." He noted that the programme was their collective effort to commemorate the loss of their brother. "We are here to remember our brother in ways we cannot express with words", he explained.
The Pro Vice-Chancellor, Prof. Dora Francisca Edu-Buandoh, expressed heartfelt words concerning the late Mr. Gharbin. She shared; "One thing we should all keep as a legacy from Elolo is his laughter. He was a great performer. We have lost a great colleague, a friend, and a teacher".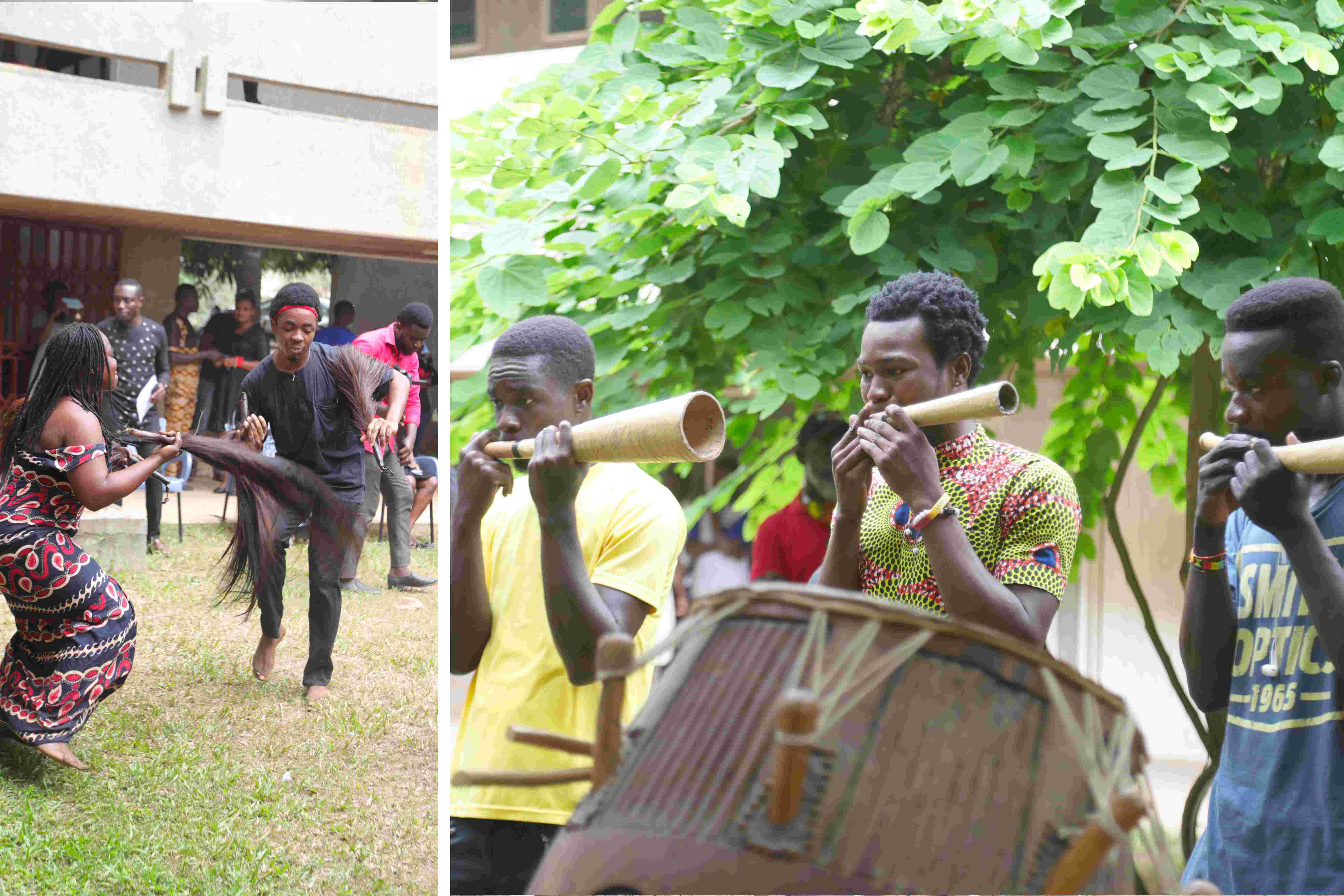 The Dean of the Faculty of Arts, Prof. Kwame Osei Kwarteng, also shared heartfelt words about the late Mr.Gharbin  saying "He was like a biological brother, a colleague and a friend to me". He advised the gathering to love their neighbors as themselves since death did not discriminate adding, "Death is what makes a king and a slave the same"
The immediate past Dean of the Faculty of Arts, Prof. J. B. A. Afful, described the late lecturer as a person who was simple, humble and related well with others.
There were condolence messages from present dignitaries such as the Director of Coastal TV, Mr. Selete Nyomi; UTAG President, Dr. Samuel Bert Boadi Kusi.
Dignitaries
Other dignitaries present at the programme were Heads of Department in the Faculty of Arts, Prof L.K. Sam Amoah, Prof. Victor Yankah, Prof Lawrence Owusu-Ansah, Rev. Dr. Emmanuel Saboro, the Executive Secretary of PANAFEST, Rabbi Halevi Kohain; and Prof Florian Carl. The bereaved family of the lecturer, performers from PANAFEST, and students from the Faculty donned in mourning cloths were also present to honor the gathering.
The late Mr. John Elolo Kwame Gharbin worked as a lecturer in the University for 16 years. He is the first lecturer to be appointed as a lecturer at the Department of Theatre and Film Studies. He was also a former head of Department and a member of the Local Organising Committee of PANAFEST.
Credit: Esther Mawulolo Kporvi